THESIS WRITING HELP
Thesis Writing Help is started as a novel work for scholars by us. Scholars can think why they need Writing-Help, when they can do their research on their own. It is true that scholars can write their own thesis and they dont need any Thesis-Help. But we have started our service long back for scholars who need our support. Standard research duration is 3 to 5 years. That is it will take minimum of 3 years and maximum of 5 years. In this time duration, scholars have lot of works like paper publication, conference and other work for their research. Thesis is a final output which is done as a last step in the research.
Even during exam times, even we prepare for 2 months, last two days all will have exam fear. In that time we cannot think anything new and creative. Similarly, during the last six months of PhD, scholars cannot think lot and put their all effort for writing thesis. To write a thesis, minimum of one month is needed with full dedication. It is not easy to write a thesis in a single night. We need complete concentration of one month and secondly flow of thesis is important.
Few things like:
Complete information about research
Follow correct sequence
Good communication
Novel idea with plagiarism free
Formatting according to the university standard
 Should be taken care while writing a journal. To keep in mind everything while writing thesis by a single person is a challenging task. Its easy for us, as we work as team having specialist for each work. Scholars feel so much tensed due to the hurdles they face during writing their journal. It is easy for scholars to bring the complete information about the research in their thesis if they have done everything for their research.
Scholars can be technically strong but sometimes they may lack in communication aspect. A standard thesis should be both technically strong and communication wise best. A small grammatical mistake can ruin their entire effort making them depressed. But we need scholars to feel relax and concentrate on their research as we are there for their documentation work. We promote research and want everyone to do research with joy. Every one of us knows that final thesis is the heart of the research. Any problem in final thesis will spoil the entire effort.
Scholars may have novel idea but writing it as thesis is a challenging work as we must concentrate on the sequence of the thesis with good communication. Entire thesis should have the flow of idea with originality. Before writing the thesis, we should be thorough with all the references we have used.
Plagiarism
We need to plan the content for each chapter and its overall flow. Technically strong doesnt indicate only the technical concept. But it also signifies the Algorithms and pseudo codes which should be checked well and should be explained correctly. A thesis is a final voice of the scholar. So it should be fully equipped with all the methods and techniques, you have used in your research. All can say, a thesis should be plagiarism free but what it actually indicates only few can realize. Checking for plagiarism is the base for every thesis.
Learning software tools
What does a plagiarism indicates, it actually checks the originality of our work. The word plagiarism means not to copy others work or idea. So, we need to write, what we have done in a clear way so that others can understand it. Last step towards this is the formatting and editing. We need to format the entire thesis according to the university format which is little tedious if we are not aware of the tool we are going to use.
Learning software tools like Latex will take months which is again a cumbersome job for scholars. We have separate team of editors who format thesis as a final step within hours due to their expertise. Everyone can write thesis but the final output will show the difference. Scholars can write their thesis but they need to struggle and face certain difficulties. So, we advice the scholars not to waste their time and approach us. Our work will show our quality and standard.
Need Thesis-Writing-Help……..
Approach us..We work for ……..
Thesis-Writing-Help
What does Thesis Writing Help signifies, can anyone think? It is actually a writing service started by us for scholars who need our assistance. Scholars generally need assistance due to the following reason:
Publication time
Journal identification
Lack of time for scholars
Communication issues
Technical support
 Generally scholars wish that their paper should be published in best journals. So they work hard and publish in top journals. Publishing 3 journals will take them at least 6 to 8 months, as we need more time to write the journal and then we have to publish it. Journal identification according to our subject content is another tedious job which needs additional time. Finishing all these, work will take half of the time of the scholar.
TIME AND TIDE WAITS FOR NONE…………..
They will be left with last 2 months time for their thesis writing. How can they fulfill all the requirement of the thesis within two months? It is really a difficult task and creates unwanted stress for scholars. Another major cause is the language problem. Basically many of us dont have English as our mother tongue due to which we cannot satisfy the thesis requirement. It needs well versed communication as it will be reviewed by international delegates. Writing a thesis is not a simple task, it is the most difficult and imperative work in our research. Due to the above mention novel causes, we have started assisting our scholars.
ITS RIGHT TIME TO CHOOSE ……….
RIGHT DESTINATION FOR YOUR WORK………
Save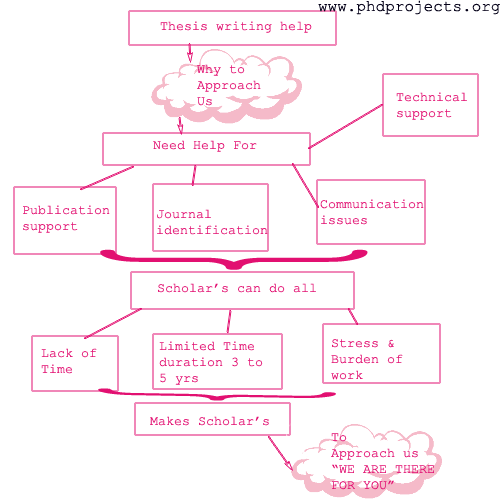 FAQ
1.I have already published all my papers, I need only thesis help can you provide?
Yes, we can write thesis for you. Bring your published papers and reference papers; we will give you your thesis in customized format as per your need.
2.In how many languages do you write thesis?
We prefer English alone to write the thesis. As English is an international standard language, it is accepted all through the world and we follow it.
3.How much time do you need to complete the thesis?
It is based upon your need. If you need urgent, we have fast track option and complete your thesis within 20 days. If you choose normal track, we will take 30 days to finish your thesis.